What we buy and how we shop is changing.
It's about a live more, buy less philosophy, where everything from home décor to furnishings needs to delight us with their form, function, and sustainability.
Witness the Marie Kondo movement that preaches ridding your homes of everything you don't love so that you are left with only quality objects that hold meaning.
Slow-moving consumerism is the ethos we aspire to now, with Stressless® furniture the choice of those who want a luxurious yet sustainable lifestyle.
Invest in luxury and performance
You could buy a cheap armchair that doesn't adjust to your body, let you sink into extra supple cushioning, or support your neck and spine.
Or you could invest in yourself, and your home, with a power-assisted Stressless® recliner, or Stressless® sofa, perfectly engineered by master craftsmen, to help you rest and recharge in sublime comfort.
Stressless® furniture includes clever, patented features such as the Stressless® BalanceAdapt™ system, which responds to your natural movements and adjusts the seat accordingly, and innovative PowerLeg&Back™ technology, that adjusts back and leg support so you can find your optimal position.
Adjustable headrests, for extra relaxation or even a nap, are a given and, because Stressless furniture includes more support springs than its competitors, so too is a lifetime of comfort.
Stressless® Scandi furniture doesn't only outperform other brands on superior ergonomics and power-assisted features, its design aesthetics elevate your style.
Leather is hand-selected to ensure natural markings give pieces individuality, not mar the appearance, while supreme leather quality guarantees longevity and sophistication.
Clean lines, natural materials, and Nordic minimalism, combined with 50 years of craftsmanship, contribute to making Stressless® legacy furniture and a style icon.
Choose sustainable pieces
At a time when reducing carbon emissions is a global concern, the furniture you buy matters.
Ekornes, the Norwegian company behind Stressless® furniture, is committed to environment-friendly raw materials and manufacturing processes that ensure you can buy a high-quality, luxury product with a low environmental impact.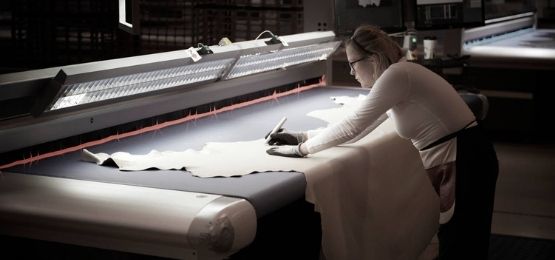 Stressless® furniture is made using:
- Natural woods that are not derived from rainforest or endangered wood species
- Non-toxic glues and dyes and water-based stains and varnishes
- Moulded foam that is free of harmful flame retardants
- A closed-loop system that treats steel without the release of toxicants
- 100% clean hydropower generated by an endless water cycle
Maximise style and function and reduce clutter
Post-pandemic, our homes are expected to provide us with so much more… an escape, a meeting place, a work environment, and even a movie room.
But more functions shouldn't mean more clutter.
Sleek, electric furniture choices will help you maximise your space and comfort.
Select a three-seater like the Stressless® Mary and you're buying a sofa and three recliners in one, with individually reclining seats and neck and lumbar support. Add even more luxury with Stressless® PowerLeg&Back™, an innovative and motorised comfort function that helps you find your ideal position and support with the simple touch of a button.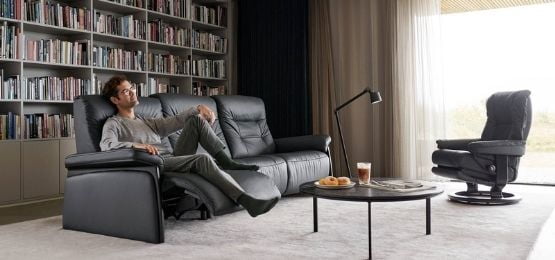 Turn a corner of your home into a flexible workspace with a Scandi-designed office chair like the Stressless London on the Original Base packed with patented and comfort-boosting features, and you'll still have room for an elegant desk.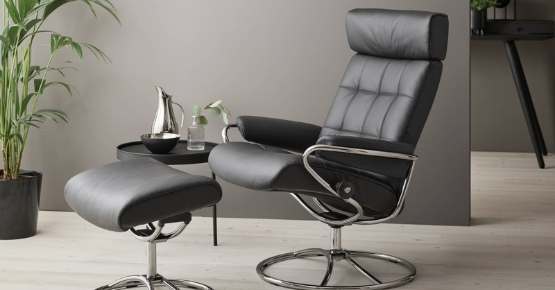 Even Stressless® dining chairs, like the Stressless® Rosemary Low Back with Stressless® BalanceAdapt™ system that brings world-renowned comfort to family and friends, are a triumph of minimalist, space-optimising Norwegian design.