Until recently, the majority of our lives followed a well-worn path that involved commuting to work or school and returning home to eat and sleep.
Enter remote and flexible working, home-schooling and the tech-enabled ability to do almost everything from home (from shopping to exercising to streaming movies on demand) and our daily schedules now follow much less predictable patterns.
With more time spent at home and more diverse activities carried out there, living spaces need to become more functional and adaptable than ever before.
And because of this, the way we design and decorate our homes has evolved. It's becoming more and more common to customise interiors to satisfy an ever-increasing desire for versatility, functionality and to provide a comfortable and relaxing sanctuary from the outside world.
If you're looking for furniture that suits your family's lifestyle and will last for years to come, look no further than Stressless®.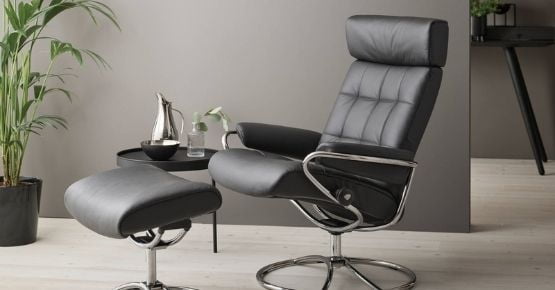 Working and Studying

The importance of ergonomics is nowhere more obvious than when you're working or studying for long periods. You need to choose a chair that offers ample back support and follows the natural curve of your spine.
Stressless® builds comfort and support into its chairs from start to finish – from additional springs and plush cold-cured foam to the use of superior leather and fabric upholstery.
From low back to high back, with adjustable headrests and a variety of sizes and finishes, Stressless® home office chairs allow you to work productively while experiencing the ultimate comfort.
And an exclusive endorsement from the Australian Chiropractors Association is proof that no effort is spared to ensure the armchairs and recliners move with and adjust to your body in the most supportive way possible.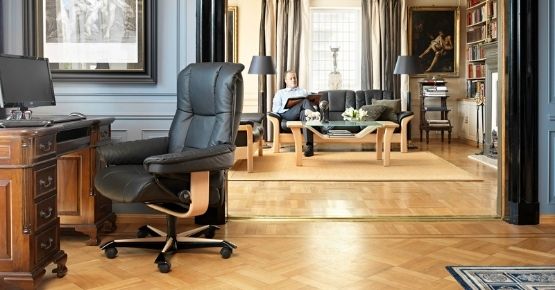 Dining and Entertaining
With a beautiful Stressless® table as the centrepiece of your dining area, you have everything you need for a cosy dinner for two through to an extended family gathering.
The Stressless® Madeira, Toscana and Bordeaux Dining Tables work equally well for intimate dinners and family feasts and can be extended with up to two separate leaf inserts which are stored inside the table when not in use.
Lingering over a delicious meal is made easier with a set of Stressless® reclining dining chairs. They're equipped with the unique BalanceAdapt™ function that reclines gently as you do, for the ultimate bodily comfort.
Choose from an armchair style with timber legs or a contemporary minimalist style with metal legs, as well as high or low back designs.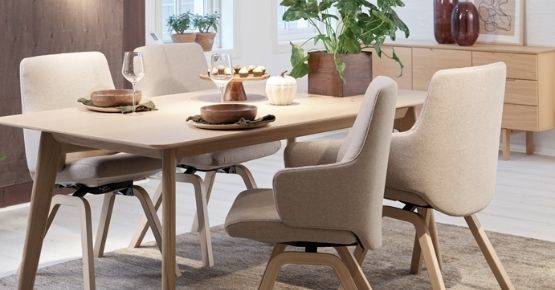 Relaxing and Recharging
Your living room is the heart of the home and it's where you unwind after a long day and entertain family and guests.
Your sofa and armchairs are the "hero" pieces in this space and it's important to choose ones that will work for you whether your family is gathering to watch a favourite film or entertaining the hordes.
Stressless® armchairs, recliners and sofas come with a variety of customisable options from bases to upholstery to your choice of wood or metal components. Choose the additional luxury of motorised back and leg adjustment for extra support while you read, watch TV, rest or sleep. Special models are also available for home theatre enthusiasts.
Choose your favourite style from minimalist to modern – the timeless quality of Scandinavian design means that your living room will never look dated.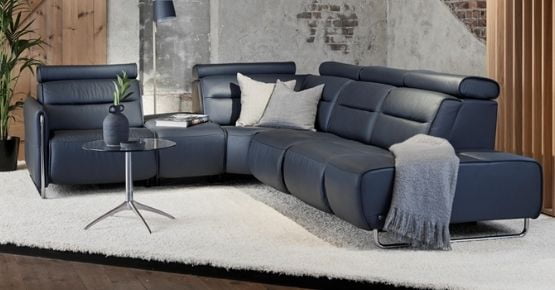 Putting it All Together
Understandably, making major interior design decisions can be a little daunting.
True to the name, Stressless® take the "stress" out of the process by providing you with the Stressless@home app, which allows you to create your favourite pieces of Stressless® furniture and place them in your room using state-of-the-art augmented reality. So you can see what it will look like before you commit to buying it.
Leather and fabric swatches are also available to give you an even better idea of how your favourite designs will work in the real-life setting of your home.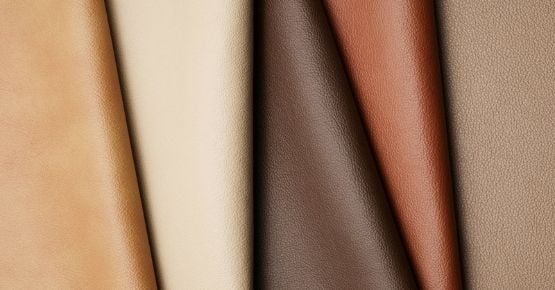 Stressless® furniture has been at the heart of family life for 50 years

Our houses need to fulfil so many functions and also be places where we can achieve a work-life balance.
We want to be able to gather together easily but also to have privacy when we need it.
To work, play, eat, relax and entertain – often in the same place.
The Stressless® brand was founded on the idea of providing the furniture you need for a comfortable and functional home, and they've been working tirelessly on that mission for 50 years.
Learn more about the current Stressless® promotions